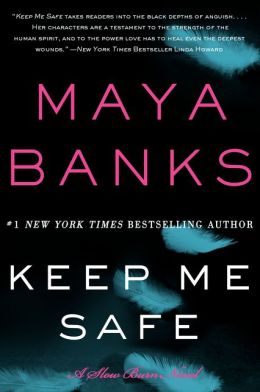 If you are a huge fan of Maya Banks and her style of devoted, hunky men who protect the women they love at all costs, then you will be happy with the first of her Slow Burn series,
Keep Me Safe
. This time around, Raime, the female character, is gifted in a way comparable to an empath, but she can sense evil, feel it and experience so much that it can consume her, almost to the threshold of death.
The male protagonist, Caleb, is intent on finding his missing sister, Tori, (who also has special abilities) and he demands the assistance of Raime, who has been in hiding. She is recovering from a police case that had greatly affected her physically and emotionally. Without regard to her traumatic experience, Caleb forces her to help him but with disastrous results.
When Caleb returns to find Raime, she has disappeared. Eventually, she returns and begs for his help instead. She is now the hunted and the person after her will stop at nothing, including using his own deadly gift, to possess and extinguish her soul forever.
Action paced, emotionally charged and steamy scenes,
Keep Me Safe
will KEEP you entertained!